Mission Statement
Our fundraising goal enables us to promote positive awareness and extend support to all those that have been afflicted with any disorders, disabilities, or special needs.
Our organization's mission is to empower and enlighten underprivileged youth and adults so that they can envision a positive future and brighter tomorrow through mentoring, music, the arts, sports, and challenging educational programs.
At Jimmy's Ice Mice Team we are passionate about raising awareness by offering a special line of products for purchase and providing his sculpting talents in performing LIVE carvings that will generate donations to allow us to help those with speech and/or language delays, cognitive delays, Autism, social and emotional disorders, and learning differences and disabilities.
---
Contact us today for more information and to book a live ice carving performance at your next special event.
---
Who We Are
Jimmy's Ice Mice Team is a nonprofit 501©(3) organization dedicated to establishing a volunteer movement that would create opportunities to build friendships by using art, cooking, carving, and creativity. The goal is for everyone to enjoy themselves while learning.
Who We Serve
Jimmy's Ice Mice Team is not limited to children with Down's Syndrome, Autism, cerebral palsy, or other underlying situations. Those who want to participate will have access to the finances needed to fund the supplies required to allow them to create.
Jimmy's Vision
To give these children the opportunity to go out into the community and gain confidence by communicating with their peers and others and experience the feeling of accomplishment through the many forms of art. Our programs are dedicated to helping children with their social, physical, and economic isolation.
Our Most Popular Program
Kids' Carving Day allows children to pick the ice they want to carve. They will adorn carving gear and work on their own under parent supervision. They will take their ice carving home to display as well as a small cooler, T-shirt, water bottle, and magic marker all emblazoned with Jimmy's Ice Mice logo. The cost would be paid for by the families attending and proceeds will be earmarked for the organization.
---
Bio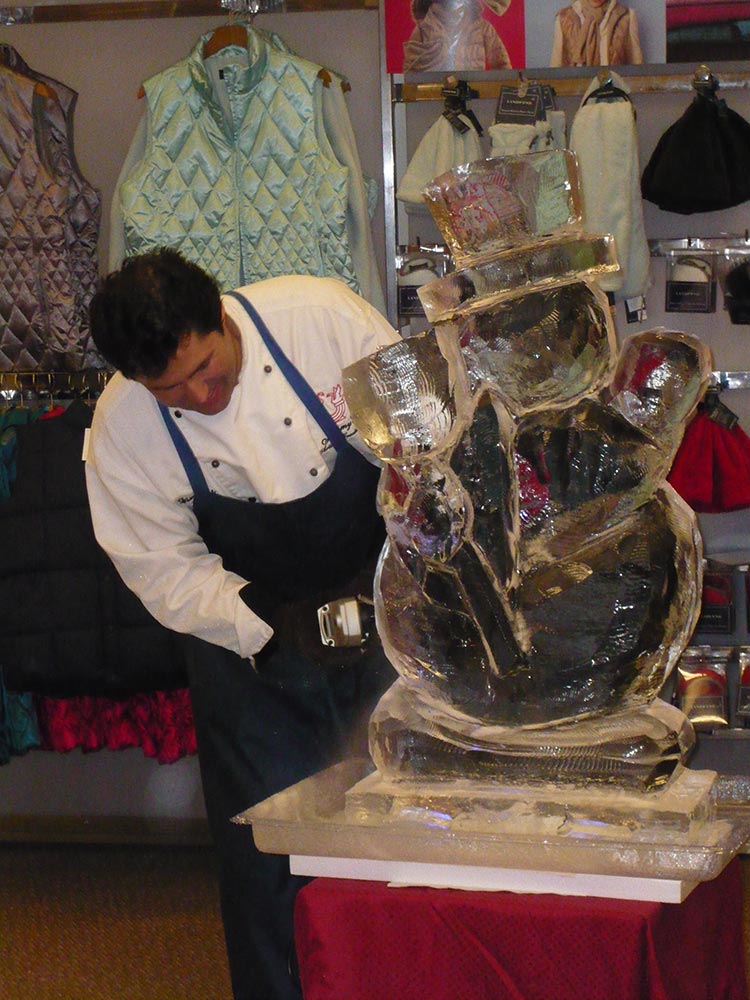 Jimmy Chiappa began his career the day before he started eighth grade at the age of 13 working at a local Italian restaurant in his home town of Lyndhurst, making pizza, prepping food, and washing dishes.

At the age of 20, he landed an apprenticeship position at the exclusive Four Seasons restaurant in New York City. This proved to be a great opportunity for Jim as well as an extraordinary experience.

Jim spent 10 years at the Four Seasons acquiring more responsibilities while working seven days a week preparing meals for countless celebrities including Dolly Parton, Joan Rivers, Barbara Walters, Paul Newman, Liza Minnelli, Henry Kissinger, and Malcom Forbes just to name a few.

During this time, Jim flew out to California in 1989 to visit family and friends when the infamous 7.0 magnitude earthquake hit. Just two months later, he accompanied a friend, a Japanese chef, to the beautiful country of Japan. Traveling overseas on this trip would pay off in many ways with Jim's future ice carving teacher hailing from Thailand. Jim says experiencing the Japanese culture offered him a deep understanding of such Asian influences as discipline and focus.
Jim was given the opportunity to learn the fine art of ice carving from, Vivat Hongpong, the most prestigious ice carver in the United States, who he met through an associate. Jim met Hongpong, the longtime ice carving king of Atlantic City, in 1993, and for three months Jim studied the art of ice carving at Vivat's home.
With no art classes or prior experience, Jim worked diligently to learn his craft and would soon display his beginner pieces in front of his friends' houses.
This opened up new doors for Jim as he began his new career of ice carving and eventually started his own business, Jimmy's Artistic Creations, mastering in the artistry of food, ice, fruit, cheese, vegetables, chocolate, and of course pumpkins.
During the early days of his business, Jim delivered ice sculptures from the back of his Toyota Corolla and borrowed his brother's van every weekend. Today he has three delivery trucks and a staff of delivery employees. Jim rarely makes deliveries these days and says he misses the "oooohs and ahhhs" as he unveils his sculptures.
Jim has been hired to do carvings for parties on popular Television sets including The Soprano's, Sex and the City, Spin City, Law & Order, Oz, and such films sets as Men in Black. As well he carved sculptures for various backstage concerts as Bruce Springsteen, Motley Crew, The Rolling Stones, Bon Jovi, Jerry Lee Lewis, and Little Richard.
He also made television appearances in 2012 on such shows as Cake Boss and The View. As well he has graced the covers of countless newspapers. Most notably in 1998 Jim was honored to be given a full-page article in the New York Times, where he was featured as Person of the Week.
Another one of Jim's special experiences came when he was chosen from an entire group of nationwide carvers to make 4,000 pounds of sculptures for the final event before retirement of the JFK Aircraft carrier in Boston. It was there Jim met Senators Ted Kennedy and John Kerry, and the creator of the Special Olympics, Eunice Kennedy Shriver, who was very instrumental in Jim's desire to start a similar organization.
Jim's enthusiasm and perseverance with the food service and hospitality industry is immeasurable from the generosity of his sculptures to countless charity events. At any time for your next special event nothing can match Jim and the brilliance of an ice sculpture designed by Jimmy's Artistic Creations.